An interview with Semrush VP of Global Marketing Olga Denisova
About Olga Denisova
Olga is a Vice President of Digital Marketing in Semrush (NYSE: SEMR), prior to that leading the Global Campaigns in Veeam ($5B valuation). Olga's 14 years of experience include management of multi-channel marketing, $$ million budgets and 40+ people teams across EMEA, USA and worldwide. Olga is an active LinkedIn user sharing her perspective on leadership and high-performing marketing.
A marketer without data is like a painter without a brush
If you work in digital marketing, chances are you've heard of Semrush. In our opinion, it's the leading online visibility management SaaS platform that gives marketers access to analytics and insights to optimize SEO, PPC, and content campaigns.
At Adalystic, we use Semrush to craft effective PPC and SEO strategies to drive results for our clients. Being huge fans of the platform, we were ecstatic to be able to sit down with Olga and get her insider tips on how to leverage Semrush to optimize paid and organic campaigns and consistently outperform the competition.
Olga echoes our enthusiasm for Semrush; "Semrush is the #1 choice for many marketers. Semrush offers a wide range of tools and features within a single platform, making it a convenient and efficient choice for marketers. You don't need to switch back and forth for SEO, PPC or competitive research, it's all in here. To top that, Semrush offers integrations with all most important tools like Google Analytics or Search Console."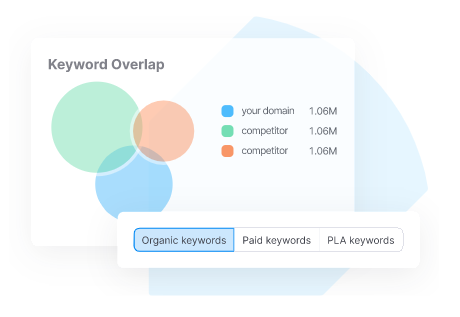 When you use Semrush, you're in good company. Semrush has been used by over 10 million marketing professionals, and is trusted by 30% of Fortune 500 companies, including Amazon, G&E, and Tesla. It has also won 21 international awards as the best SEO software suite.
Data is everything
As marketers, we need to keep in mind that a marketing software is only as good as its data. Olga cites Semrush's rich data set as one of its core differentiators: "Semrush partners provide data from more than 200 million panelists worldwide. We use this data to calculate search volumes on global, national, and even local levels."
"Additionally, we have trusted business agreements with some of our customers who provide us with anonymized data, so that we can integrate that data to calibrate our algorithm model by basing it on real metrics to get the most accurate estimates. The data is constantly updated to ensure accuracy and reliability."
At Adalystic we rely on Semrush's unparalleled data sources, combined with other data sources like clients' first party data and competitive insights, to help us make informed campaign optimizations for our clients.

Using Semrush's third-party data, you can differentiate yourself in several ways:
Identify lucrative markets with low to no competition, where you can outrank the competition and win new business.
Understand what areas are highly competitive and find the necessary angle to increase your chances to outrank.
Understand where you're already seeing organic success, and supplement those keywords and campaigns to continue to outperform the competition.
How to leverage marketing intelligence for campaign success
One of the most common mistakes Olga sees marketers make is shooting in the dark and hoping for results, instead of performing thorough campaign research and analysis.
She recommends conducting keyword and competitive research to inform your campaign strategy.
Semrush is most well known for its suite of keyword research tools. Semrush provides keyword data, including search volume, competition, and keyword difficulty, to help marketers identify the right keywords to target in their campaigns for better SEO and PPC results.
Our SEM team at Adalystic uses Semrush to identify the keywords that we already rank well for organically, so that we can run ads for keywords where SEO may not have had an impact. This strategy ultimately drives better traffic and lets us spend against underperforming keywords, as opposed to spending against traffic that we may have already captured organically.
Another core Semrush differentiator is its competitive research tools. Semrush allows you to analyze your competitors' online presence across paid and organic channels, and across all markets from the regional to country level. It can help you identify opportunities and gaps in your own campaigns against your rivals, and define your geo-strategy and addressable audience.
Olga explains: "You can track your competitors' paid search campaigns, including ad copy, ad spend, and performance metrics. This information will help you not only uncover competitor strategies but also optimize your own PPC campaigns and find new growth areas."
At Adalystic, we always review major competitors when onboarding a new client and when competitive dynamics change or a new campaign is launched. By understanding our competitors' digital marketing strategies, we're able to drive more effective campaigns for our clients.
With the right tools and strategies we can not only anticipate what competitors might do, but help guide our clients to zig when others zag. It can let us be more effective and maximize every dollar spent and hour worked.
What's in the pipeline for Semrush?
When we asked Olga what updates are in store at Semrush, she told us about their plan to add more standalone apps to Semrush App Center.
The Semrush App Center is a curated collection of apps designed to help third-party partners tackle the most hyper-specific marketing use cases from a single platform.
"Today, there are more than 15 apps available for different types of competitive research, including the well-renowned Ad Clarity and BuzzGuru."
Having access to third-party apps through Semrush App Center means you can dig deep into specific marketing niches, ranging from competitive research to social media marketing. For example:
Semrush.Trends to analyze your competitor's marketing mix, and their full marketing strategy across channels and geo-locations.
Ad Clarity to assess your competitor's ads and understand their content strategy.
BuzzGuru to check your competitor's tactics on YouTube, Instagram, Twitch, and TikTok."
At Adalystic, we're so excited for what Semrush has coming down the pipeline. It's a tool we love and use daily and can't wait to see what is yet to come. We want to thank Olga for the time she took answering our questions and providing insight into how Semrush can drive better digital marketing results for your business.