Discover why HubSpot is the all-in-one solution you've been searching for.
To put it simply, HubSpot is a customer relationship management (CRM) platform that helps businesses grow. It's an all-in-one solution with five unique hubs, all working together seamlessly.
CMS Hub
Marketing Hub
Sales Hub
Service Hub
Operations Hub
This article is going to explore the CMS, Marketing, and Service Hubs — and how they can help businesses achieve better growth.
Build a website on top of HubSpot's CRM platform
✔️ Build better website experiences driven by data about your customers
✔️ Optimize content for conversion
✔️ Make a website that scales with your business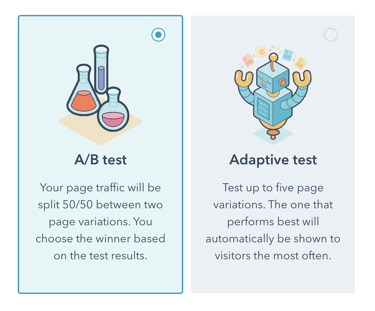 HubSpot offers a content management system, or CMS, that seamlessly works alongside the rest of the platform. And best of all, it lets you build customized content based on your customer segments. This means you can curate online experiences that are driven by real, actionable data. Here's what else you can do:
Run A/B or adaptive testing with up to 5 variations
Optimize web pages for conversions
Access site analytics, SEO recommendations, and attribution reporting
Use drag-and-drop editor to easily build and edit pages
Use HubSpot's pre-built themes
Integrate with amazing tools like Canva
💡 Example: Your team is running a campaign for a month and driving traffic to a new landing page. Instead of reporting results at the end of the month and making educated guesses on how the page converted and what to do next time—the team could easily set up an A/B test using a different call-to-action, page copy, media, or even layout. Then switch to the better performing version for the second half of the campaign, or set up another test! Paid ad campaigns are continuously tested and tweaked, why not test and personalize the page experience?
Turn leads into customers with marketing automation
✔️ Efficiently segment and nurture leads through every step of the buyer's journey
✔️ Send personalized emails triggered by real-time actions
✔️ Make better decisions supported by actionable data about your customers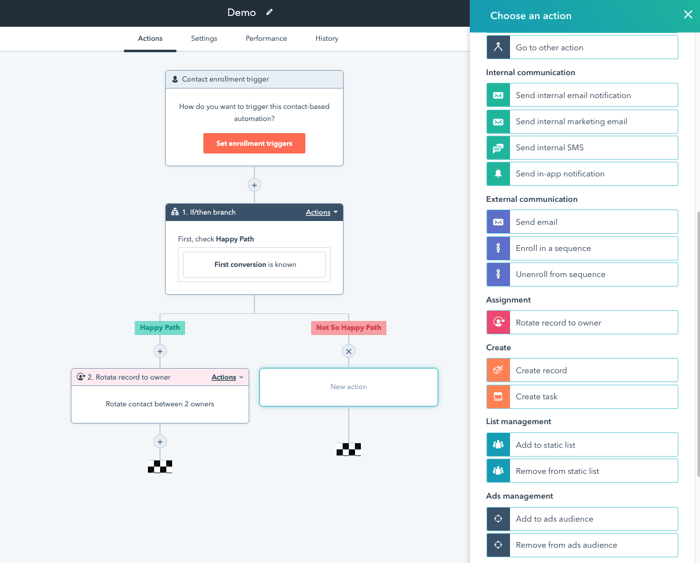 Whether converting new leads or driving share of wallet, marketing automation is critical. And what better way to tackle this challenge than with a marketing automation platform that is intuitive, scalable and doesn't require a large team to manage.
Now imagine all your data, all your customers, and all your campaigns in one convenient spot. This is what HubSpot's Marketing Hub provides. It's all your marketing tools in a single toolkit and all the resources you need to optimize conversions.
Feature
Benefit
Create personalized marketing campaigns that are 100% automated
Increased efficiency to quickly scale without straining your team
Track campaigns with centralized data and custom dashboards
Better insight into campaign performance to drive strategy
Automate

everything!

Lead scoring, life cycle stages, email marketing, ads management, list management, connected apps, tasks...
Winning 😎🏆
💡 Example: A B2B e-commerce company that relies on repeat shoppers needs to track and maintain retention. With HubSpot's workflows, the team can instantly flag customers that have not visited the website or ordered for [x] days, automatically enroll them into a re-engagement campaign, notify a sales member, or even send a survey to learn about their experience.
Create memorable customer experiences
✔️ Combine customer service with CRM data and automation
✔️ Scalable support features across more channels
✔️Better collaboration to deliver valuable experiences to each and every customer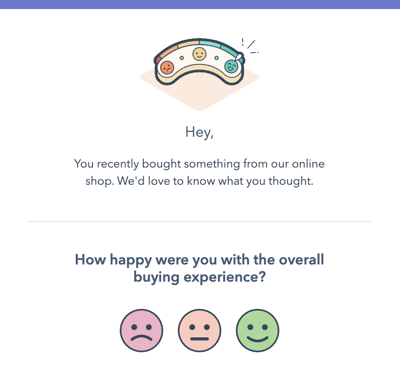 To provide next-level service, teams need the right tools and data to keep a pulse on customer activity and identify opportunities. HubSpot Customer Service software, does just that by enabling customer service teams:
Service Features
Service Reporting

Ticket automation
Chatflows / live chat
Centralized inboxes
VoIP calling
Knowledge base
Customer portal
1:1 video messaging

Feedback survey scores and comments
Knowledge base views / most viewed knowledge article
Ticket totals over time
Chat conversation totals over time
Ticket average time to first response
Ticket average time to close
This allows your CS team (and company) a 360° view to what customers are experiencing, common issues they are searching for, and how their issues are getting addressed.
💡 Example: Your company launches a new product campaign and the CS team is experiencing a high volume of customer inquiries through multiple channels. With Service Hub the team can efficiently log the channel of communication, prioritize, and categorize the ticket. Quickly learn how your customers prefer to communicate, what were the biggest pain points of the campaign, and strengthen customer relationships along the way.
To ensure no customer gets left behind, the team can create workflows to notify internal members of open tickets and automate communication to the customer.
Summary
Lean start-up or growing business — HubSpot can help you grow better. Here's a quick recap of Why Go HubSpot and why it could be the all-in-one solution for you:
Convert more leads with optimized content
Turn leads into customers faster with automation and lead nurturing
Convert more customers with personalized campaigns
Enable CS teams to create better customer experiences
Automate tasks along the way
To learn more about marketing automation, lifecycle nurturing, and faster growth, you're in the right place. We're here to show you how tools like HubSpot can be the all-in-one solution your business needs to get to the next level. We love helping businesses grow. Book a consultation with us to find out more.